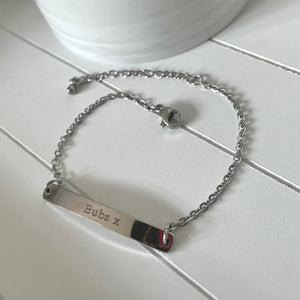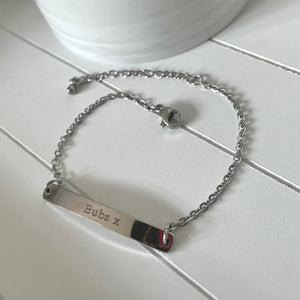 BYENCEE
Custom Bar Bracelet
Want a sleek yet trendy piece of jewellery? Look no further than our personalised bracelets. Not only does your personalisation add an element of individuality (whether that be a name or a date), the glossy finish is sure to complement your outfits and make you stand out! Comfortable to wear, this bracelet is perfect for yourself or as a unique gift for someone special!
Limit 16 characters (per side) including spaces (English Letters, symbols (.,?!@'/#%~&"+)), numbers and hearts only- for any other languages, please contact us before placing your order)
*For hearts, please use a heart emoji
Please type your personalisation exactly as you want it. We will not convert languages or Roman Numerals and are not responsible for it. 
If selecting Inside + Outside, in personalisation box please make it clear what the personalisation is for each side. For example you can structure it as below:
Outside: (insert personalisation) 
Inside: (insert personalisation) 
If you do not specify which personalisation you are wanting on which side, our designer will decide for you.
• Waterproof
• Hypo Allergenic
• Highly Polished Stainless Steel
Width of bar : 0.5cm 

Length of bar : 4cm
As the item is placed by hand for engraving, there may be discrepancies in alignment and may be marginally off centre.