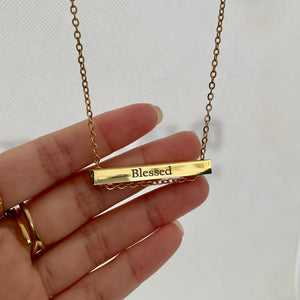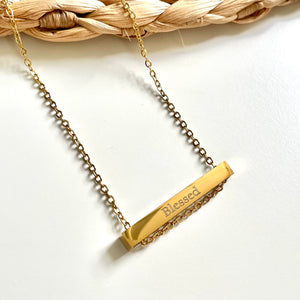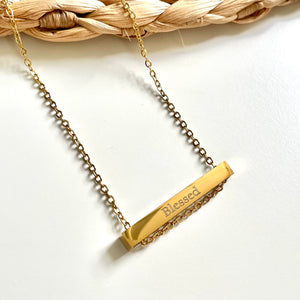 BYENCEE
Swing Bar Necklace
Introducing our Swing Bar Necklace, a graceful tribute to the joy of cherished moments. Crafted with care, this beautifully designed pendant mirrors the gentle sway of a swing, evoking a sense of nostalgia and the enduring bonds of love. Engrave it with names, dates, or sentiments close to your heart, creating a keepsake that forever captures the playful essence of life's sweetest memories. Wear this elegant piece as a reminder that life's most beautiful moments are meant to be cherished, swinging freely in the breeze of your heart's fondest recollections.
Waterproof

Will not fade

High quality stainless steel
*Please let us know what personalisation you would like on each side of the bar
Limit 14 alphanumeric characters including spaces 
(English/ Arabic Letters, symbols (.,?!@+;:)), numbers, star signs, infinity sign and hearts only- any other emojis will be ignored)
*For hearts, please use a heart emoji

If personalising more than one side of the pendant please make it clear what the separate personalisation's are, for example:
Front: "Blessed" || Top: "I love you" || Bottom: "15.12.16" || Back: "❤️"
If you do not specify which personalisation on which face of the pendant + which Chain, our designer will decide for you. 
Please type your personalisation exactly as you want it. We will NOT convert languages or Roman Numerals and are not responsible for it. Your order will be engraved exactly as you have typed.
As the item is placed by hand for engraving, there may be discrepancies in alignment and may be marginally off centre.