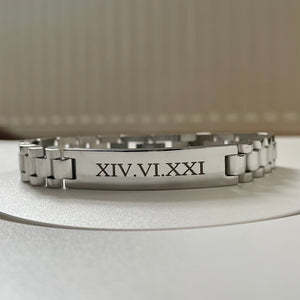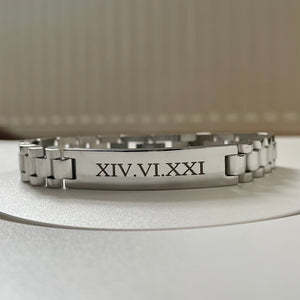 BYENCEE
Watch Band Bracelet
Elevate your style with our sleek silver men's bracelet, a personalized statement piece reminiscent of a classic watch band. Engrave it with a name, date, or message of your choice, creating a timeless accessory that speaks to your individuality.
- Waterproof
- Non Fading
- High quality stainless steel
Limit 20 characters (per side- Letters, symbols (.,?!@'/#%~&"+)), numbers, hearts and infinity signs only- any other emojis will be ignored)
*For hearts, please use a heart emoji
Please type your personalisation exactly as you want it. We will not convert languages or Roman Numerals and are not responsible for it. i.e. if you select Arabic engraving, please type your personalisation in Arabic.
If selecting Inside + Outside, in personalisation box please make it clear what the personalisation is for each side. For example you can structure it as below:
Outside: (insert personalisation) 
Inside: (insert personalisation)
As the item is placed by hand for engraving, there may be discrepancies in alignment and may be marginally off centre.
Circumference: 20cm