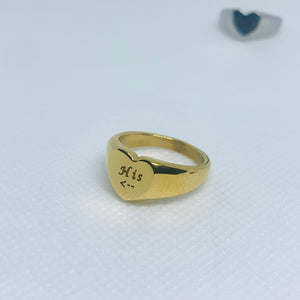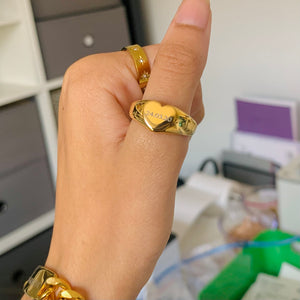 BYENCEE
Custom Heart Ring
This simple signet heart ring is an elegant piece that is perfect to be worn casually or on occasions. Want it to be even more unique? You can get the ring personalised with a short word/ initial! This makes it a beautiful gift option that is sure to show how much you care. 
• High Quality Stainless Steel
• Waterproof
• Will not fade!
Please enter the Customisation you're wanting engraved into the personalisation box. Eg. 'His —>' or 'No engraving' for no engraving.
Limit: 2 Lines. Each line has a character limit of 6, including spaces. (Based on a size 6 ring- bigger sizes may have an increased character limit by +1-4 characters)
(English Letters, symbols (.,?!@+&*/;:)), numbers, infinity sign and hearts only)
Please scroll down to see our ring sizing guide.
As the item is placed by hand for engraving, there may be discrepancies in alignment and may be marginally off centre.