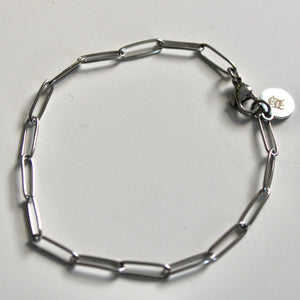 BYENCEE
Initial Paperclip Bracelet/ Anklet
Introducing our elegant paperclip-inspired bracelet, a timeless accessory that combines simplicity and personalization. Crafted with meticulous attention, this bracelet features a dainty circle charm, engraved with your chosen initial, adding a touch of individuality. Embrace effortless style and make a statement with this versatile piece that effortlessly complements any outfit.
Waterproof
Will Not Fade
High Quality Stainless Steel
Length: 18cm (adjustable to smaller lengths)
As the item is placed by hand for engraving, there may be discrepancies in alignment and may be marginally off centre. 
 Font used: Old English (please scroll down to see our font letter comparison chart)