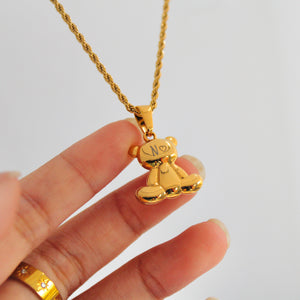 BYENCEE
Custom Teddy Bear
A teddy bear is a symbol of comfort, security and close bonds and these necklaces certainly embody that with their beautiful design! The ability to add personalisation makes them into a special and meaningful piece of jewellery perfect as gifts for any age!
Waterproof
Non Tarnish
High Quality Stainless Steel
Please enter the personalisation you are wanting into the personalisation box. E.g.
"Always and Forever"
(The item will be engraved on the back of the teddy bears head)
(if you're are not wanting any engraving, please type "no engraving" into the personalisation box)
Maximum Characters small bear: 18
Maximum Characters big bear: 25
(English Alphabet, symbols ().,?!'"/-;:&@•#|~, infinity sign and hearts only)
Please type into the personalisation box exactly as you are wanting the personalisation to be ( we are not responsible for converting numbers into Roman numerals. If you are wanting to engrave a heart, please use the heart emoji) 
Chain length: Silver- 60cm, Gold- 50cm
As the item is placed by hand for engraving, there may be discrepancies in alignment and may be marginally off centre.