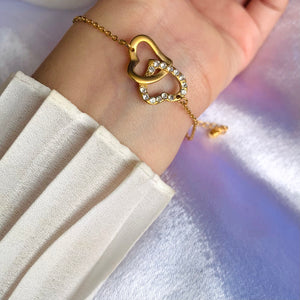 BYENCEE
Double Heart Bracelet/ Anklet
This trendy piece of jewellery can be worn as a bracelet or as an anklet! Anklets are a unique yet beautiful piece of jewelry and this one is accompanied by dual hearts. Why have one heart when you can have two! Whether the hearts represent two individuals or double the love from one person, this is a perfect piece of jewellery as a gift for someone dear to you so that they have a reminder of your love/friendship. It is also sleek and can even be bought for yourself to complement your outfits! 

Length: 18cm + 5cm Chain Extender
• Highly Quality Stainless Steel
• Non Tarnish
• Will not Fade 
If you are purchasing this product as a bracelet, please contact us with your measurements before placing your order.