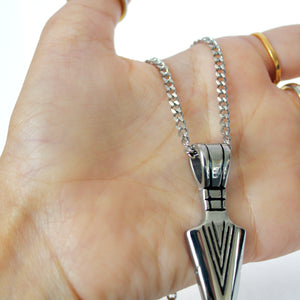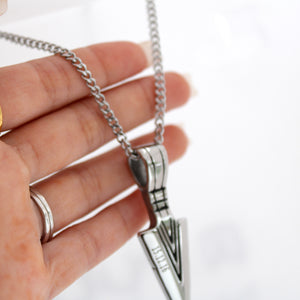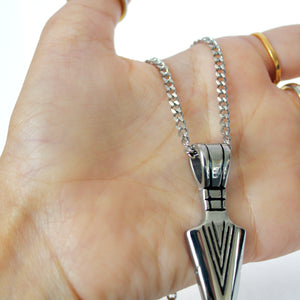 Our arrow necklaces are a stylish piece of jewellery, perfect for that trendy look. Designed to embody masculinity, this modern design can be personalised to make the necklace look even more classy
*If you're wanting engraving, Please let us know what personalisation you would like on your arrow pendant
Limit 11 alphanumeric characters including spaces 
(Letters, symbols (.,•#/"£&?!@+)), numbers, infinity sign and hearts and star sign emojis only)
E.g. Personalisation: "Kaps" 
If selecting "No", please type "No engraving" into the personalisation box.
Please type your personalisation exactly as you want it. We will not convert languages or Roman Numerals and are not responsible for it. 
• Non Tarnish
• Waterproof
• High Quality Stainless Steel
• Will not fade
Pendant Length: 5.5cm

 As the item is placed by hand for engraving, there may be discrepancies in alignment and may be marginally off centre.