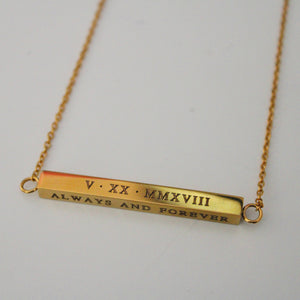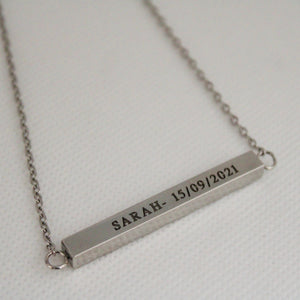 BYENCEE
Horizontal Bar Necklace
A special and unique personalised piece. This necklace is all about your personalisations, whether that be your name, a loved ones name or an important date. This piece will certainly draw heads with its simple and trendy design and celebrates your personalisation or something special when worn. You can choose to have one personalisation on the front and a different on the back and switch between these giving the illusion of two different necklaces. Or you could personalise all four sides to make it even more special! A perfect gift for any occasion for your loved ones or as a treat for yourself.
Tarnish Resistant
Waterproof
Double Plated Stainless Steel
Please let us know what personalisation you would like on each side of the bar
Limit 25 alphanumeric characters including spaces 
(Letters, symbols (.,?!&£"/•°][_~|\@+)), numbers and hearts only)

If personalising more than one side of the pendant please make it clear what the seperate personalisations are, for example:
Front: "M.S" || Top: "I love you" || Bottom: "15.12.16" || Back: "❤️"
If you do not specify which personalisation on which face of the pendant + which Chain, our designer will decide for you.
Please type your personalisation exactly as you want it. We will not convert languages or Roman Numerals and are not responsible for it. 
As the item is placed by hand for engraving, there may be discrepancies in alignment and may be marginally off centre.