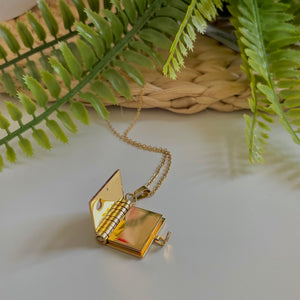 Introducing our exquisite Novelty Necklace, a wearable ode to cherished moments. Crafted with meticulous detail, the necklace unfolds into three blank pages, awaiting your personal touch. Engrave it with names, dates, or special sentiments, creating a timeless keepsake that captures the essence of your most treasured stories. Carry your memories close to heart with this unique and meaningful piece, a testament to the beauty found within every chapter of life.
Waterproof

Will not fade

High quality stainless steel
Please enter the personalisation for your book cover and pages into the Personalisation box
e.g. 
[ Book cover: Alesha. Personalisation: If life was a story, becoming your friend would be my favourite chapter- From Hannah ]
Or
[ Book cover: Alesha. Page 1: "If life was a story...". Page 2: "...becoming your friend would be my...". Page 3: "...favourite chapter. - From Hannah"]
If you don't specify what you would like written on each page, your chosen personalisation will be spread across the 3 pages by our designer.
Number of engravable pages: 3 (6 sides)
Max characters per side: 40 (including spaces)
(English/ Arabic Letters, symbols (.,?!@+;:)), numbers, star signs, infinity sign and hearts only- any other emojis will be ignored)
*For hearts, please use a heart emoji
Please type your personalisation exactly as you want it. We will NOT convert languages or Roman Numerals and are not responsible for it. Your order will be engraved exactly as you have typed.
As the item is placed by hand for engraving, there may be discrepancies in alignment and may be marginally off centre.