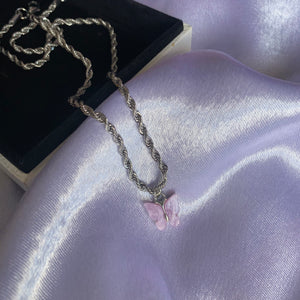 BYENCEE
S- Butterfly Rope Chain
Q attwp Available in 3 different colours our Butterfly Rope Chain is perfect to add a unique look to any of your outfits. It also serves as a perfect gift for a group of friends who can get their own Individual colours!
Chain Material: Stainless steel
Chain Length: 45.5cm
Our rope chain is high quality stainless steel meaning that it will last over a year before any signs of fading!
• NON Tarnish
• Can be worn in water
• Does not change colour