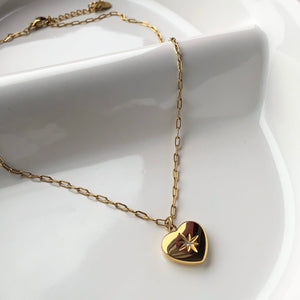 Our shimmer necklace enhances the common heart necklaces by adding a flower and a cute gem. This necklace is perfect for a unique look or as a gift to show your love to sone one special!
 If you are wanting to engrave on the back, please specify the engraving you're wanting in the personalization box.
e.g. 'B' to engrave the letter B or 'No engraving' for no engraving.

Length: 40cm + 5cm chain extender
• Non Tarnish
• Gold Filled Stainless Steel
• Waterproof (Will not fade!)